European settlers first started coming to San Francisco Bay in the early 19th century, but it wouldn't be until 1828 when Jedediah Smith crossed the Sierra Nevada Mountains that permanent settlements were considered in the area. William Richardson, an Englishman, is considered the founder of the city, which he established in 1835. He called the area Yerba Buena, and it became a popular destination for Americans in the 1840s.
The United States would annex California in 1846, with the USS Portsmouth sailing into San Francisco Bay to raise the American flag. That's when the name of the city changed for the full-time population of about 800 people. When James Marshall discovered gold in the area, a surge of people came to make their fortune. In just two years, the population reached 25,000 people. A second silver rush in 1859 helped to keep the city active, and then the transcontinental railroad provided a direct connection with the rest of the country.
By the 1870s, the first cable cars began to operate, providing a public transportation option for a city that reached a population of 150,000 people. By 1900, that figure had doubled again. Despite devastating fires and earthquakes in its early history, the people rebuilt the city to make it the wonderful place it is today.
These are the pros and cons of living in San Francisco today that are worth considering.
List of the Pros of Living in San Francisco
1. There are lots of job opportunities available in San Francisco.
The economy across the entire Bay Area is on fire right now. The employment boom thanks to Silicon Valley and the other high-tech industries in the area makes it one of the most robust economies in the country right now. You can find work with Netflix, Google, Facebook, Apple, Tesla, and others if you have the correct skill set. There are plenty of opportunities for you to create a startup in this environment as well.
If you aren't involved in the high-tech sector, there are still excellent jobs in healthcare, hospitality, and indirect positions that contribute to the economy. You won't earn as much and may need to commute because of it, but you can typically come out ahead with the jobs here compared to what you can find in California or the rest of the country.
2. You are a short drive from some of the best places in California.
There is a lot of activities that you can do in the city. Whether you head down to enjoy the Golden Gate Bridge, go across to see the redwoods, stay on the piers, or enjoy the unique culture, some people find that they can fill up their free time without ever going somewhere. If you do get the urge to take a day trip, then you can head over to Yosemite, enjoy the sunshine on the peninsula, or take the four-hour drive (with good traffic) to Lake Tahoe for world-class skiing.
Half Moon Bay is only thirty minutes to the east of the city. You can also make it to Napa Valley in about an hour when heading to the north.
3. Public transportation in San Francisco covers the entire city.
If you want to save some cash by ditching the vehicle, then San Francisco has you covered with its public transportation system. You have access to cabs, bicycles, scooters, buses, trollies, and light rail so that you can access almost any part of the city. Thanks to its temperate climate, it is also one of the best walking communities in the United States. The hills can wear out your legs if you're not used to them, but taking advantage of the weather and the natural beauty of the community makes for a wonderful experience.
4. Many employers offer free shuttles and other transportation services.
One of the reasons why it is feasible to get around San Francisco without a vehicle is because many of the employers in the Bay Area offer free shuttle services that you can use to get to work. Some may even offer excursions to other parts of the peninsula and the bay so that you can get out and about on your weekend. When you do need to travel somewhere, using an Uber or Lyft is still affordable.
That means you can use the money that you'd spend on your car payment, automotive insurance, and fuel to ease the burden of your rental costs in the city.
5. There are plenty of activities to enjoy when living in San Francisco.
You will find two active Major League Baseball teams in the Bay Area for you to catch a game. There are two NFL teams in the region as well. You can also catch the NBA, NHL, and MLS when living in the city. You'll discover that not only is it one of the best sports-related metro areas in the country, but San Francisco offers several cultural options as well.
You can relax at Baker Beach with your family and friends, enjoy one of the eccentric dive bars along the coast, or take a tour of the Museum of Modern Art. There are also several celebrations that you can only find in San Francisco, such as Fleet Week and Bay to Breakers.
6. San Francisco is renowned for its cultural diversity.
One of the reasons why people are consistently attracted to the idea of living in San Francisco is because of its emphasis on diversity. It might be a city of transplants, but no one really cares about that here. Everyone is welcome, no matter what your race, ethnicity, gender identity, sexual orientation, religion, or socioeconomic status happens to be. There is a neighborhood for everyone here, and most people can integrate into almost any living situation.
Another interesting fact is that San Francisco is one of the few large metro areas where Latinos are the majority ethnicity, with 39.1% of the population coming from this background. Non-Latino Caucasians represent 37.2% of the population.
7. The economy in San Francisco keeps humming along.
One of the reasons why the housing market and rental costs are so high in San Francisco is because the economy is strong, diverse, and consistent. California would have the fifth-largest economy in the world if the state were an independent nation. That means it has more influence than the United Kingdom, which has 26 million more people contributing to the GDP.
When you look at the city, San Francisco and the Bay Area has the 19th-largest domestic economy in the world. That places it just one spot behind Los Angeles and one spot ahead of Switzerland – yes, the country. The Inland Empire has an economy larger than the entire state of Kansas or the country of Hungary.
8. You can embrace your creativity when living in San Francisco.
Costumes are a way of life in San Francisco. You will find people in the city throughout the entire year where trying to figure out if that is what they usually wear or they are dressed up for a specific occasion. It would be fair to say that the Bay to Breakers festival is more like a second Halloween for adults to enjoy.
Some costumes in the city are elaborate. Others involve nothing more than the person's birthday suit. You really aren't a "true" resident of the city until you've seen someone walking down the street naked. There is a high level of self-expression that you can find in San Francisco, and it can be a lot of fun to embrace that culture.
9. San Francisco is one of the best dog-friendly cities in the United States.
If you have a dog that is coming with you to San Francisco, then both of you are in for a fantastic time. Every neighborhood has a couple of dog parks that offer an expansive area for leash-free running. Several apartment complexes and condos offer these areas as well. You will always find people out with their pets during the day, enjoying the sunny weather in the city when it arrives. You might even say that socialization doesn't really happen unless you bring your dog along.
Several of the bars in the city will even let you bring your dog into the establishment if it isn't a busy night for them. Several businesses allow them as well, even if they are not a service animal. There's only one word of caution: not every landlord permits pets, so you'll want to ask in advance before bringing your pup along for this adventure.
10. Fitness is a priority in San Francisco.
The weather is always nice enough in San Francisco to get outside, so you'll see people enjoying the outdoors through hiking and cycling. There is more access to healthier food choices, including the presence of several farmer's markets throughout the city. Most restaurants tailor their menus to healthy eating instead of huge portions of high-carb foods. Even stores like Walgreens sell produce in the city.
You can easily join a fitness class, a sports league, or some other favorite activity to start making friends when living in San Francisco.
List of the Cons of Living in San Francisco
1. The housing market in San Francisco is pricing everyone out.
Even though there was a lag in growth for the first time in forever in 2018, the rental market in San Francisco is insane – and the housing market isn't any better. The median price for a single-family home in the city was $1.65 million in May 2019. If you prefer to look for a condo as a way to save some money, then the average cost of that option is $1.25 million.
If you want to rent in San Francisco, then you can expect to pay a lot for that option too. The average cost of a two-bedroom apartment is the city is $3,108 per month. For comparison purposes, the average price in the United States for the same space is about $1,175 per month. Even if you want a studio apartment, you're going to be paying more than $2,000 per month to live in the city.
2. The cost of living in San Francisco is equally high.
If you want to eat out while living in the city, then be prepared to pay much more than what the average American spends for the privilege. An average meal for two at a mid-range restaurant is about $80, which is double the cost of what the national average is in the United States. Even if you cook every meal at home, you'll need to budget at least $420 per person, which is over $100 more than the national average.
Parking is a significant problem as well. Although there are free parking options outside of the city center, the average monthly rate to keep your vehicle stored while you work comes to about $310 per month. Fuel is also expensive, averaging $4.20 per gallon in May 2019, making it the most expensive place to fill up in the country.
3. You will need to deal with the tax situation when living in San Francisco.
Taxes are high in San Francisco, but this disadvantage applies to the entire state of California. The income tax rate is one of the highest in the country at 12.3%, even though that rate only applies to taxable income above $572,000. If you make more than $1 million per year, then there's a 1% surtax to pay as well.
Then you have the 7.25% state sales tax, which becomes 8.5% in San Francisco. Your property taxes are going to be higher if you own too since the property values are skyrocketing in the city. Some people have found that it is cheaper for them to fly into the city, stay in a hotel for their five days of work, and then fly home for the weekend – it's that crazy.
4. There is always the threat of an earthquake to consider in the city.
The 1906 earthquake that devastated San Francisco was estimated to be 7.9 – 8.25 with extreme shaking. Over 80% of the city was destroyed at the time, 3,000 people were killed, and 250,000 were left homeless. It continues to be one of the worst and deadliest earthquakes in U.S. history. Because of the city's location near fault lines, there is always the lingering threat of the "Big One" that exists in residents minds.
This disadvantage can theoretically apply to anyone living along the western coast of the United States, but there are more tremors in San Francisco that you can feel when compared to other locations. If you decide to start living here, then you'll want to make sure that there is an emergency kit available for immediate access.
5. The traffic in San Francisco is legendarily terrible.
Traffic inside of the city it difficult to manage at almost any time of day – including the overnight hours. If you are trying to get somewhere during rush hour, then you need to avoid all of the highways at all costs. Even when your goal is to get over to Oakland or down to San Jose, you're going to need to budget plenty of extra time to reach your destination.
You'll notice that there is a different flow to the traffic as well. People tend to drive faster and with more aggression, so you'll need to turn up your defensive driving skills a notch.
6. It can be a challenge to get used to the weather in San Francisco.
If you're used to a temperate coastal climate, then the weather in San Francisco may not seem like much of a disadvantage. When you're used to the hotter, dryer climates in the southern part of the state, then living in this city can feel downright chilly. It tends to be in the 50s in December, around the 80s in the summer, and you're going to get plenty of rain thanks to its position near the water. There is plenty of fog that rolls through the city as well.
That means you'll want to bring a jacket and an umbrella whenever you head out. At least you won't be shoveling snow by the foot like people to the north are during the winter months from the same storms.
7. Neighborhood define you in San Francisco.
There might be a neighborhood for everyone to find in San Francisco, but where you choose to live is going to become the definition of who you are. People in the city take this issue very seriously. There are unique offerings in each area, with a lot of pros and cons to consider with each one, but there are also stereotypes that you'll want to consider. If you are moving to the area with your family, then Noe Valley tends to be the place where you end up. The hipsters tend to stay in the Mission district, and then you'll find the blue collar folks down by the Marina.
Although technically anyone can live anywhere and find a reasonable level of acceptance, you'll want to research the different neighborhoods in San Francisco to see where your comfort zone is going to be.
8. There is a significant issue with homeless and drug addiction in the city.
There are a lot of gorgeous aspects of San Francisco to love, but the issues the city has with heroin and meth are quite problematic. There is a significant homeless population in the city as well, especially in the core, where you're going to find a higher crime rate, unsanitary conditions at times, and encounters with people who are desperate for a fix, down on their luck, or struggling with their mental health.
9. Don't trust Google for your public transportation schedules.
MUNI is the public transportation system in San Francisco where you can hop onto a bus to get around the city. It would be fair to say that the city residents have a love-hate relationship with this service – and most days, it's more of the latter. Google Maps likes to tell you when the next bus will arrive, but it is rarely accurate. Don't base your schedule on what it tells you.
About half of the buses also require that you step down into the steps to get the back door to open. It only takes one missed stop to figure that issue out. The whole bus will start yelling at you too, so maybe don't be the first one out until you get used to the situation. Then, if your bus is going through Chinatown, expect a lengthy delay.
Verdict on the Pros and Cons of Living in San Francisco
There is no doubt that living in San Francisco is expense. You have people working in Silicon Valley making six figures, but living out of their vehicle because they can't find a place they can afford. You are going to need some cash to make things happen if you want to start living here. It might be worthwhile to consider commuting if you can manage the traffic situation in the city.
The perks of living in San Francisco are almost endless. You can find plenty of small shops, museums, and points of interest that will captivate your attention. Even having a sourdough bread bowl filled with chowder while enjoying a view of Alcatraz makes for a memorable day.
The pros and cons of living in San Francisco will always look at the cost first. If you can't afford being here, even with a job offer, then maybe another destination is the right choice to make. When you can make ends meet, you will find that this city is one of the most magical places to be on the planet.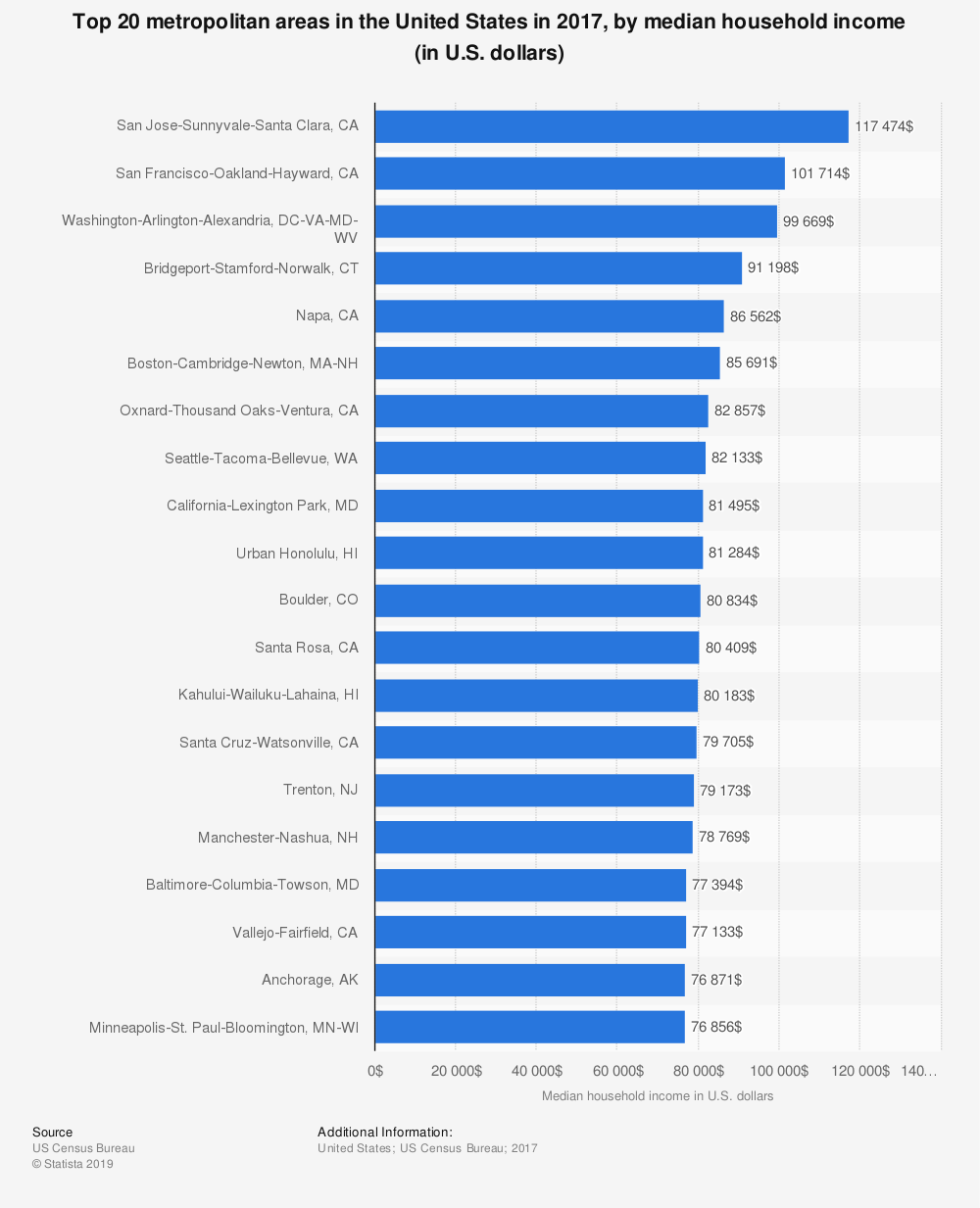 Blog Post Author Credentials
Louise Gaille is the author of this post. She received her B.A. in Economics from the University of Washington. In addition to being a seasoned writer, Louise has almost a decade of experience in Banking and Finance. If you have any suggestions on how to make this post better, then go here to
contact our team
.